Mission and Vision
Making every HOME a BETTER place.
About Us
At MODULasia, we design and create every day as we want to be part of bringing every household "dream" interiors "alive". We customize different modular cabinet system both for home and offices. Since kitchen area is our specialty, we provide schemes from classic to sophisticated and elegant design that inspires more to cook and serve superb meals for your loved ones and spend longer hours together. Most significantly, we want to bring comfort and make every home a better place.
We keep our cost accessible and reasonable. We ensure that what you will get is worth the price. At MODULasia, nothing is more fulfilling and uplifting than seeing you happy and satisfied. While others want to change the world, MODULasia wants to start at the inner core of it, it is your HOME.
The Founders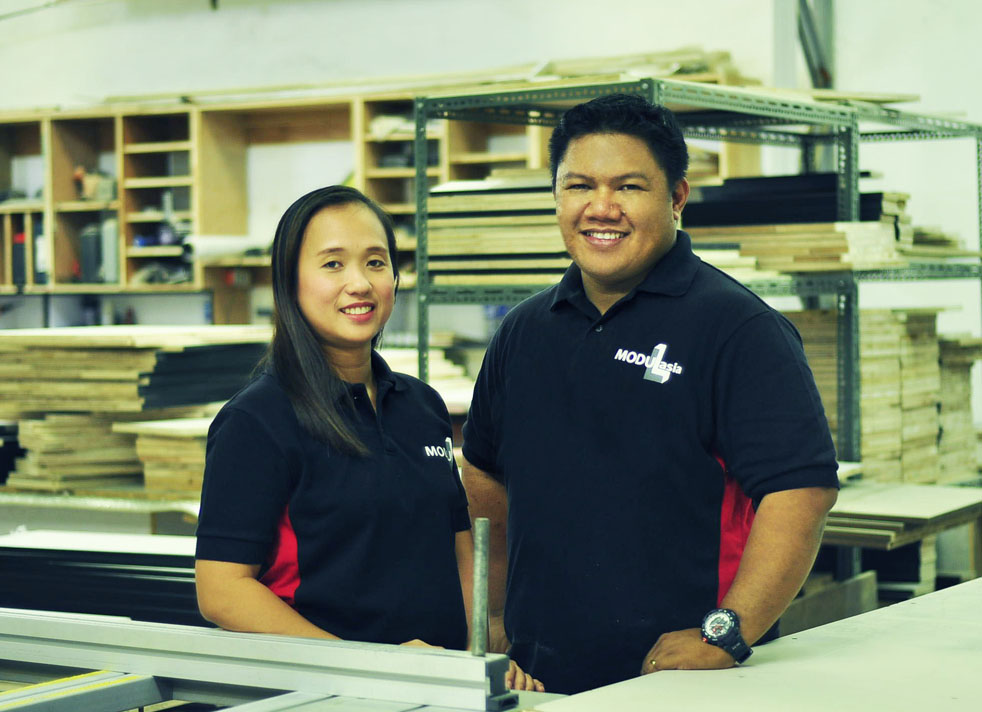 Meet the husband and wife behind the MODULasia who did not hold limitations to take ventures and opportunity to grow. Instead, they're stretching out their knowledge to later on have come up with MODULasia.
Mark Anthony Manipon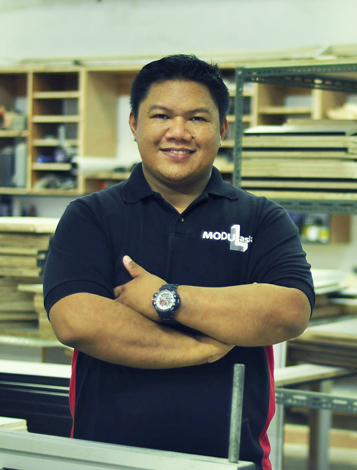 Mark is a co-founder at MODULasia. He's a licensed Architect by profession and a member of the United Architects of the Philippines. He assumes the roles of Overall Operations Manager, Architectural Designer, Quality Management, among many other things.
He spent several years working as a Project Manager abroad specialized in the design, construction, renovation and project management of commercial banking chains. When he decided to stay in the Philippines for good, he expanded his interests and exposure in developing residential and commercial areas and together with his wife, he started the company named Metro1 Architectural Services where he design and build. He's been affectionate about furniture and interiors ever since. So while managing the construction business, he also took the venture to design its interiors through modular systems and that's when the MODULasia started.
Prescilla Coleen Manipon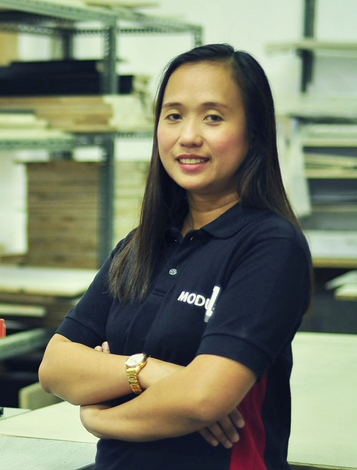 Coleen is also a co-founder at MODULasia. Holding the degree in Business Administration major in Marketing, she carries the roles of Finance Manager, Sales and Marketing Supervisor and the overall administrative responsibilities including Human Resource.
She also spent several years working abroad as an administrative staff then later resigned her post in the pursuit for a more challenging set up. She collaborated with her husband to start their construction business. She exposed herself and engaged to construction and architectural field through attending seminars, exhibitions and schooling. Together with her husband Mark managing the Metro 1 Architectural Services, they saw another opportunity, seized it, then they started the MODULasia.
Our Work
Our clients are mostly residential areas, condominiums, offices and commercial space from different locations like Quezon City, Manila City, provinces all over Laguna, Cavite, Tagaytay, Batangas, Quezon Province, Pangasinan and Tarlac City.
We have delivered hundreds of units to date consisted of various modular cabinets such as kitchen, closets and wardrobes, toilet vanities, study tables, office desks, tv racks and bar counters. Some of them are repeat orders from previous clients.
MODULasia can provide services both locally and internationally. In fact, we've produced office tables and counters delivered in one of the offices in the States of Micronesia during 2018. The items were already assembled, crated and shipped out.
Our Services
Kitchen Cabinets
Walk-in Closets
Dressers
Wardrobes
Office Cabinets & tables
Bar Counters
TV Racks/Entertainment Systems
Shelves
Display Cabinets
Space Saver Bed
Toilet Vanity Units
Shoe Rack
Side Tables
Study Tables
Other storage solutions required
House Construction and Renovation